Dear supporters of RAWA and Afghan Women's Mission,
This year was our most financially challenging year since our organization began nearly 13 years ago. As you may recall, about a year ago our fiscal sponsor IHC collapsed losing all our funds, and the funds of about 200 other organizations. Click here to read about it.
While we have found a wonderful new sponsor, SEE, we have raised only a tiny fraction of the funding we normally receive from donors like you this year. Tragically, the main sponsor of RAWA's flagship project, Danish School, has also been unable to provide the funding we need. In fact, the money we have raised this year are barely enough to fund two months of Danish School operations.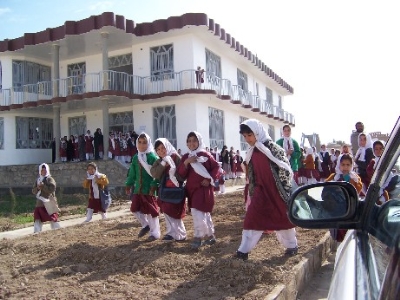 The loss of our funds, and the global economic recession have created a perfect storm that now threatens closure of all of RAWA's life-saving work.
Click here to make a donation.
In RAWA's own words, here is an assessment of how dire the situation is:
The Revolutionary Association of the Women of Afghanistan (RAWA) has always relied on its supporters all over the world for financial assistance, and especially its supporters in the US, and never turned to any other source. We understand the many difficulties you face, which makes us even more proud when you work hard to help us as well. Please don't forget RAWA, the only anti-fundamentalist and independence-seeking female organization of Afghanistan, in these hard days, and enable us to implement all our projects in the coming year so that your donation is spent in ways that truly help Afghanistan and its suffering people.

Crisis of IHC has caused a lot of problems for us, we had to limit our programs in Afghanistan due to acute shortage of fund. If we could not raise enough fund, RAWA may have to close down a school that we run inside Afghanistan for Afghan girls.
Click here to make a donation.
As you know, the situation in Afghanistan remains grim, particularly for women. This week Najia Sediqi, the head of the women's affairs department for eastern Laghman province was shot and killed. And, a new United Nations Report released on December 11, 2012, finds that three years after a law protecting women was enacted, "Afghan women are frequent victims of abuse," and "the overall use of the law remained low, indicating there is still a long way to go before women and girls in Afghanistan are fully protected from violence through the law." Click here to read a news article about the UN report.
RAWA continues their hard work of creating a better Afghanistan through education, literacy projects, and more. But they cannot do it without your financial solidarity. We know that there are many worthy causes vying for your hard earned dollars this holiday season. Please consider making a donation to preserve RAWA's projects before the end of this year. Your donation is tax-deductible in the United States to the extent of the law, and may be tax-deductible in other countries as well.
Click here to make a donation.

This post was originally published on Afghan Women's Mission.
Print
Share
Comment
Cite
Upload
Translate
APA
Afghan Women's Mission | Refugee Watch (2023-02-07T18:28:00+00:00) » RAWA Projects facing Serious Danger of Closure: Please Make a Donation!. Retrieved from https://www.refugee.watch/2012/12/11/rawa-projects-facing-serious-danger-of-closure-please-make-a-donation/.
MLA
" » RAWA Projects facing Serious Danger of Closure: Please Make a Donation!." Afghan Women's Mission | Refugee Watch - Tuesday December 11, 2012, https://www.refugee.watch/2012/12/11/rawa-projects-facing-serious-danger-of-closure-please-make-a-donation/
HARVARD
Afghan Women's Mission | Refugee Watch Tuesday December 11, 2012 » RAWA Projects facing Serious Danger of Closure: Please Make a Donation!., viewed 2023-02-07T18:28:00+00:00,<https://www.refugee.watch/2012/12/11/rawa-projects-facing-serious-danger-of-closure-please-make-a-donation/>
VANCOUVER
Afghan Women's Mission | Refugee Watch - » RAWA Projects facing Serious Danger of Closure: Please Make a Donation!. [Internet]. [Accessed 2023-02-07T18:28:00+00:00]. Available from: https://www.refugee.watch/2012/12/11/rawa-projects-facing-serious-danger-of-closure-please-make-a-donation/
CHICAGO
" » RAWA Projects facing Serious Danger of Closure: Please Make a Donation!." Afghan Women's Mission | Refugee Watch - Accessed 2023-02-07T18:28:00+00:00. https://www.refugee.watch/2012/12/11/rawa-projects-facing-serious-danger-of-closure-please-make-a-donation/
IEEE
" » RAWA Projects facing Serious Danger of Closure: Please Make a Donation!." Afghan Women's Mission | Refugee Watch [Online]. Available: https://www.refugee.watch/2012/12/11/rawa-projects-facing-serious-danger-of-closure-please-make-a-donation/. [Accessed: 2023-02-07T18:28:00+00:00]
rf:citation
» RAWA Projects facing Serious Danger of Closure: Please Make a Donation! | Afghan Women's Mission | Refugee Watch | https://www.refugee.watch/2012/12/11/rawa-projects-facing-serious-danger-of-closure-please-make-a-donation/ | 2023-02-07T18:28:00+00:00
https://github.com/addpipe/simple-recorderjs-demo