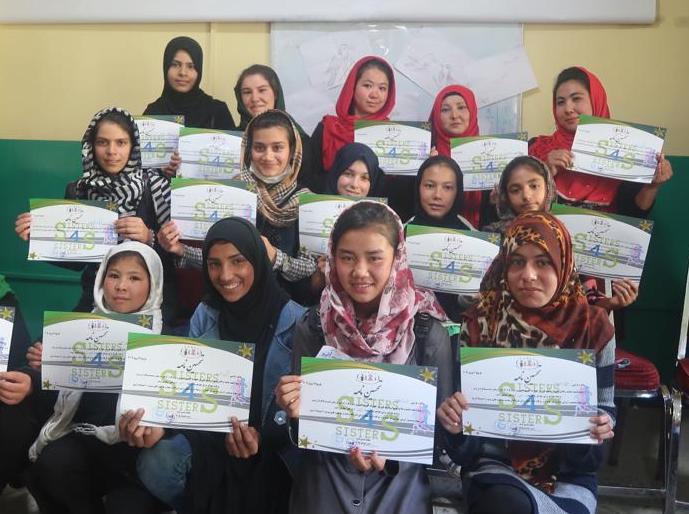 We are proud to announce that PARSA's Sisters 4 Sisters and Brothers 4 Brothers programs are starting up again. This year we will be working with a dedicated group of 40 girls and 25 boys who are members of our Afghan Scouts program. The goal of the programs is to address the unique sets of challenges faced by Afghan girls and boys. PARSA will work to develop leadership skills and instill healthy behaviors in Afghan youth through dedicated leadership activities as well as through the provision of exceptional opportunities that we have offered participants in previous years, including educational activities (math, English, computers), physical health (nutrition, running, bicycling, weightlifting), field trips, and event planning. The goal is to support the individual success of the youth participants as well as to assist the youth in improving the health of their communities.In addition to dedicated leadership training, female mentors in the Sisters 4 Sisters program will learn mentorship skills and how to organize their peers into informal support groups. Each mentor will be trained with support from professional staff in PARSA's Psychosocial Department to become support group facilitators and will organize groups of five female youth participants in their neighborhoods. These informal groups meet weekly and give participants an opportunity to strengthen their relationships with their peers and encourage individuals to advocate and care for each other. They develop emotional resiliency, self-confidence, and teach participants to learn to work together to solve problems.
We would like to thank the
Embassy of Canada in Afghanistan
for supporting this important project this year!
The post S4S and B4B are Back! appeared first on PARSA Afghanistan.
This post was originally published on PARSA Afghanistan.
Print
Share
Comment
Cite
Upload
Translate
APA
Alyssa | Refugee Watch (2023-02-07T18:21:38+00:00) » S4S and B4B are Back!. Retrieved from https://www.refugee.watch/2020/09/15/s4s-and-b4b-are-back/.
MLA
" » S4S and B4B are Back!." Alyssa | Refugee Watch - Tuesday September 15, 2020, https://www.refugee.watch/2020/09/15/s4s-and-b4b-are-back/
HARVARD
Alyssa | Refugee Watch Tuesday September 15, 2020 » S4S and B4B are Back!., viewed 2023-02-07T18:21:38+00:00,<https://www.refugee.watch/2020/09/15/s4s-and-b4b-are-back/>
VANCOUVER
Alyssa | Refugee Watch - » S4S and B4B are Back!. [Internet]. [Accessed 2023-02-07T18:21:38+00:00]. Available from: https://www.refugee.watch/2020/09/15/s4s-and-b4b-are-back/
CHICAGO
" » S4S and B4B are Back!." Alyssa | Refugee Watch - Accessed 2023-02-07T18:21:38+00:00. https://www.refugee.watch/2020/09/15/s4s-and-b4b-are-back/
IEEE
" » S4S and B4B are Back!." Alyssa | Refugee Watch [Online]. Available: https://www.refugee.watch/2020/09/15/s4s-and-b4b-are-back/. [Accessed: 2023-02-07T18:21:38+00:00]
rf:citation
» S4S and B4B are Back! | Alyssa | Refugee Watch | https://www.refugee.watch/2020/09/15/s4s-and-b4b-are-back/ | 2023-02-07T18:21:38+00:00
https://github.com/addpipe/simple-recorderjs-demo