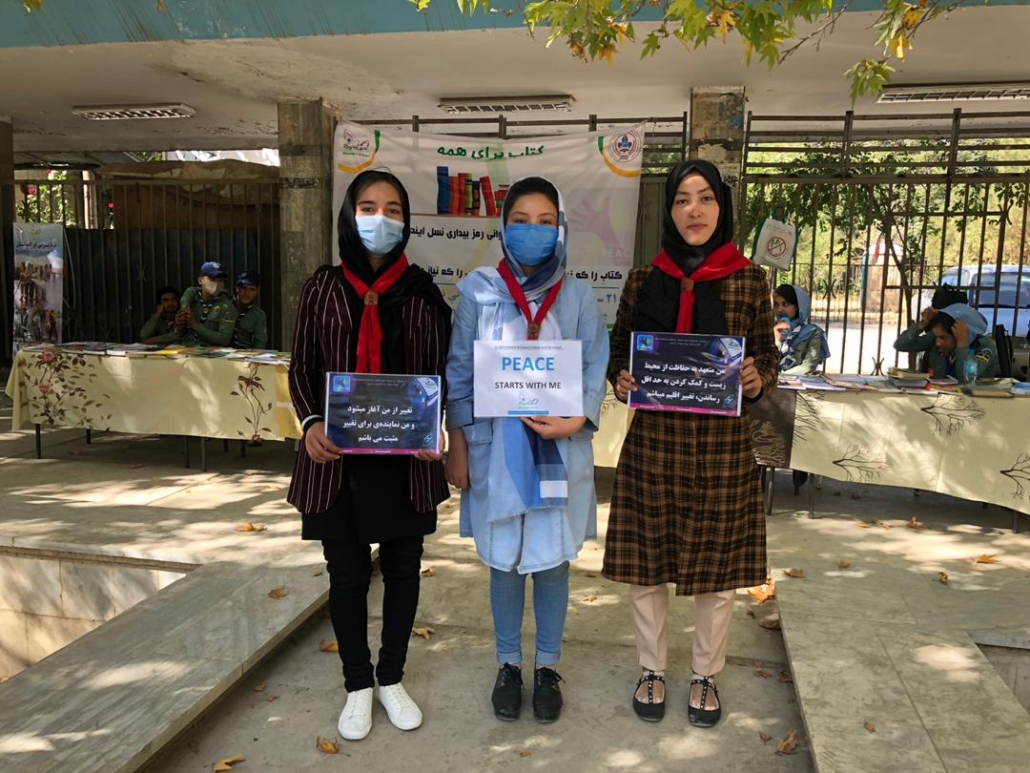 September 21st is the International Day of Peace. PARSA's Afghan Scouts are active members of World Scouting's Messengers of Peace program and look forward to this day each year as an opportunity to share their vision for a peaceful Afghanistan with their communities. This year, Scouts in five provinces organized events for Peace Day: Kabul, Laghman, Sar-e Pol, Takhar, and Nimroz.
Activities included "Peace Booths" where Scouts and the passerbys wrote their ideas about "What peace means to me" on a Peace Wall and took part in games that encouraged teamwork and working together to solve challenges. They also organized a "Books for All" campaign where they collected donations of books and invited people to take a book home and then pay it forward in their own communities.
The Scouts also asked members of the public to reflect on how they can personally play a role in creating a peaceful future. Each participant selected a "Peace Commitment" as their promise to act for a better world, such as:
"I will consider others and the environment when I make daily choices"
"Change starts with me, and I am an agent for positive change"
"I commit to make a positive difference in my community"
"I stand against verbal and physical violence by all means"
Scouts in all five provinces were extremely proud to host the Peace Booths and represent the Messengers of Peace program. In turn, the public welcomed the outreach and individuals were enthusiastic about their commitments. In Takhar Province, the Director of Education joined the events, became an honorary Scout, and even made a personal donation to troop activities. This kind of grassroots support shows that the Scouts are doing an incredible job of elevating the perceived value of youth in their communities and building acceptance for the expansion of Scouting in Afghanistan.
Thank you to our PARSA Scout donors who made this year's International Day of Peace events possible.
Takhar Province
Kabul Province
Nimroz Province
Laghman Province
The post Afghan Scouts International Day of Peace appeared first on PARSA Afghanistan.
This post was originally published on PARSA Afghanistan.
Print
Share
Comment
Cite
Upload
Translate
APA
Alyssa | Refugee Watch (2023-01-30T05:08:26+00:00) » Afghan Scouts International Day of Peace. Retrieved from https://www.refugee.watch/2020/09/30/afghan-scouts-international-day-of-peace/.
MLA
" » Afghan Scouts International Day of Peace." Alyssa | Refugee Watch - Wednesday September 30, 2020, https://www.refugee.watch/2020/09/30/afghan-scouts-international-day-of-peace/
HARVARD
Alyssa | Refugee Watch Wednesday September 30, 2020 » Afghan Scouts International Day of Peace., viewed 2023-01-30T05:08:26+00:00,<https://www.refugee.watch/2020/09/30/afghan-scouts-international-day-of-peace/>
VANCOUVER
Alyssa | Refugee Watch - » Afghan Scouts International Day of Peace. [Internet]. [Accessed 2023-01-30T05:08:26+00:00]. Available from: https://www.refugee.watch/2020/09/30/afghan-scouts-international-day-of-peace/
CHICAGO
" » Afghan Scouts International Day of Peace." Alyssa | Refugee Watch - Accessed 2023-01-30T05:08:26+00:00. https://www.refugee.watch/2020/09/30/afghan-scouts-international-day-of-peace/
IEEE
" » Afghan Scouts International Day of Peace." Alyssa | Refugee Watch [Online]. Available: https://www.refugee.watch/2020/09/30/afghan-scouts-international-day-of-peace/. [Accessed: 2023-01-30T05:08:26+00:00]
rf:citation
» Afghan Scouts International Day of Peace | Alyssa | Refugee Watch | https://www.refugee.watch/2020/09/30/afghan-scouts-international-day-of-peace/ | 2023-01-30T05:08:26+00:00
https://github.com/addpipe/simple-recorderjs-demo