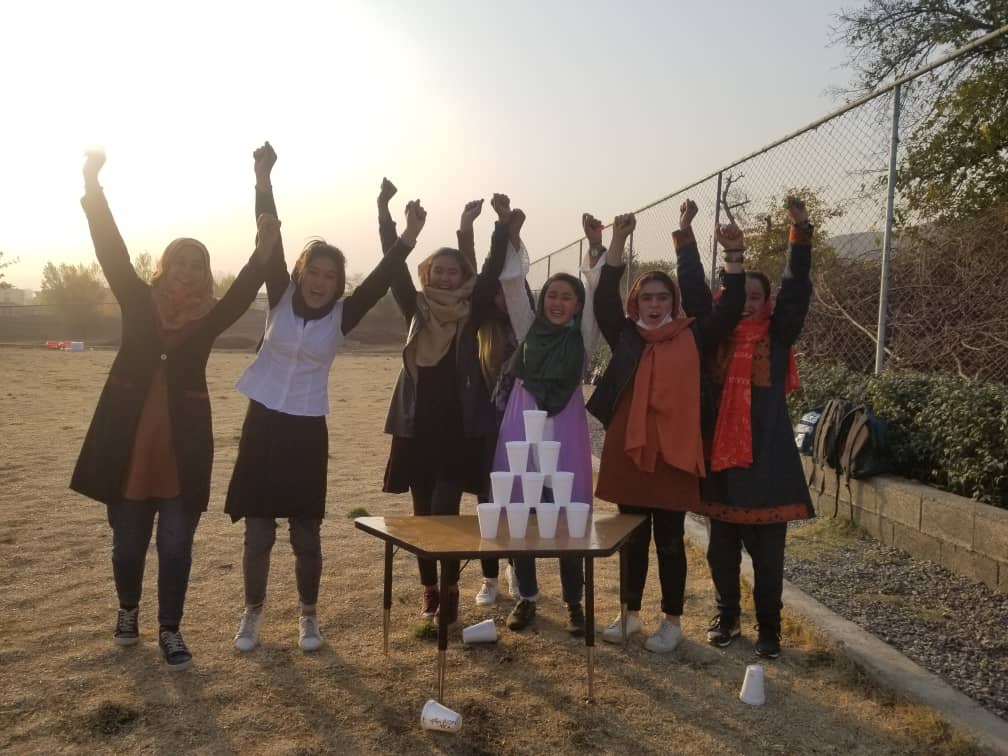 From PARSA's November 2020 Newsletter. Read the full newsletter here.
On the day after another brutal and apparently unpreventable attack on the Kabul University, I and my training team are going into a training with managers from around the country of the ARCS Marastoons. Marastoons are the government-mandated facilities that care for women, children and elderly who have no family to care for them and face starvation and violence without intervention.
Yesterday, our day with the managers acquainted us with their problems, struggles and deep compassion for the people under their supervision. It revealed again for me, the value for family and community that Afghan people try to live by as they face the almost constant heartache of living in this country.
During the training, we looked out the window and saw PARSA's Afghan Scouts taking part in a playful activity and I said, "In all of this we have another generation of children to raise? What do we tell them about this world? What future do we give them to hope for and work for?"  This is a question for all of us around the world at this juncture in history.
I was reminded of a meeting I had three weeks ago with two girls from S4S who were meeting with me about what the S4S girls wanted their sports program to consist of. "Well, Marnie," 15-year old Maqbula said, "It depends on whether you want to make an impact on our lives or not." "Ok," I said, "tell me about that."
"Sisters 4 Sisters would like to have a serious sports program with an objective and an opportunity to become professionals if we want. Sima has joined the national volleyball league and I continue my running. We want to compete. We want to form an an S4S team and compete around the country and around the world. We are all close as we have been together for years and this is really what we want. We speak on behalf of the other S4S girls. We want to make you, PARSA and Afghanistan proud of us."
What could I say but "Of course!" What more is there for us to do in these turbulent times than to listen to their dreams, validate their voices, and help them work toward a future they are making for themselves?
I want to thank all of our supporters, our community partners and especially PARSA staff for holding a steady focus on our mission to support Afghan leaders, both young and mature, during these extraordinarily stressful times.
– Marnie Gustavson, PARSA Executive Director
The post appeared first on PARSA Afghanistan.
This post was originally published on PARSA Afghanistan.
Print
Share
Comment
Cite
Upload
Translate
APA
Alyssa | Refugee Watch (2023-03-28T22:10:56+00:00) » PARSA Afghanistan 2020-11-03 15:56:16. Retrieved from https://www.refugee.watch/2020/11/03/parsa-afghanistan-2020-11-03-155616/.
MLA
" » PARSA Afghanistan 2020-11-03 15:56:16." Alyssa | Refugee Watch - Tuesday November 3, 2020, https://www.refugee.watch/2020/11/03/parsa-afghanistan-2020-11-03-155616/
HARVARD
Alyssa | Refugee Watch Tuesday November 3, 2020 » PARSA Afghanistan 2020-11-03 15:56:16., viewed 2023-03-28T22:10:56+00:00,<https://www.refugee.watch/2020/11/03/parsa-afghanistan-2020-11-03-155616/>
VANCOUVER
Alyssa | Refugee Watch - » PARSA Afghanistan 2020-11-03 15:56:16. [Internet]. [Accessed 2023-03-28T22:10:56+00:00]. Available from: https://www.refugee.watch/2020/11/03/parsa-afghanistan-2020-11-03-155616/
CHICAGO
" » PARSA Afghanistan 2020-11-03 15:56:16." Alyssa | Refugee Watch - Accessed 2023-03-28T22:10:56+00:00. https://www.refugee.watch/2020/11/03/parsa-afghanistan-2020-11-03-155616/
IEEE
" » PARSA Afghanistan 2020-11-03 15:56:16." Alyssa | Refugee Watch [Online]. Available: https://www.refugee.watch/2020/11/03/parsa-afghanistan-2020-11-03-155616/. [Accessed: 2023-03-28T22:10:56+00:00]
rf:citation
» PARSA Afghanistan 2020-11-03 15:56:16 | Alyssa | Refugee Watch | https://www.refugee.watch/2020/11/03/parsa-afghanistan-2020-11-03-155616/ | 2023-03-28T22:10:56+00:00
https://github.com/addpipe/simple-recorderjs-demo