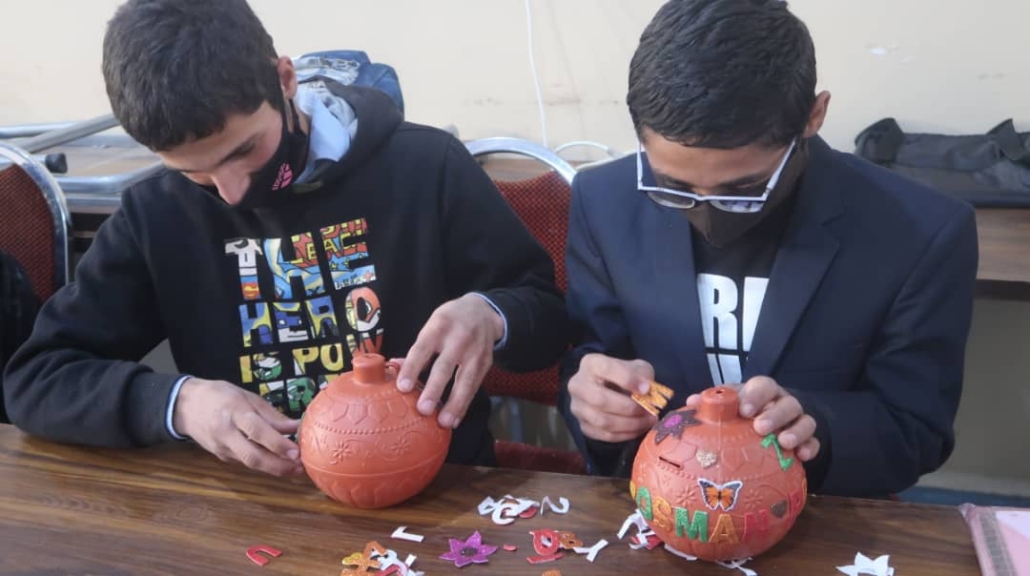 November 1:
November 13: Team building exercises during this week's S4S and B4B murabi leadership training. Next week our team has a virtual workshop with trainers from the World Association of Girl Guides and Girl Scouts (WAGGGS) who are helping us develop our leadership curriculum. Our curriculum is based on the WAGGGS' model, tailored to the Afghan context.
November 20: Last week in our Sisters 4 Sisters and Brothers 4 Brothers leadership training, our murabis created "Ahfareen Banks". Ahfareen means "Good Job!" in Dari, and these banks have slots where the murabis put little notes inside about their accomplishments and good work they have done. This is part of the "Leading Yourself" mindset of our 8-week curriculum based on the #WAGGGS leadership training model.
The post Murabi Leadership Training appeared first on PARSA Afghanistan.
This post was originally published on PARSA Afghanistan.
Print
Share
Comment
Cite
Upload
Translate
APA
Alyssa | Refugee Watch (2023-02-07T19:03:10+00:00) » Murabi Leadership Training. Retrieved from https://www.refugee.watch/2020/11/20/murabi-leadership-training/.
MLA
" » Murabi Leadership Training." Alyssa | Refugee Watch - Friday November 20, 2020, https://www.refugee.watch/2020/11/20/murabi-leadership-training/
HARVARD
Alyssa | Refugee Watch Friday November 20, 2020 » Murabi Leadership Training., viewed 2023-02-07T19:03:10+00:00,<https://www.refugee.watch/2020/11/20/murabi-leadership-training/>
VANCOUVER
Alyssa | Refugee Watch - » Murabi Leadership Training. [Internet]. [Accessed 2023-02-07T19:03:10+00:00]. Available from: https://www.refugee.watch/2020/11/20/murabi-leadership-training/
CHICAGO
" » Murabi Leadership Training." Alyssa | Refugee Watch - Accessed 2023-02-07T19:03:10+00:00. https://www.refugee.watch/2020/11/20/murabi-leadership-training/
IEEE
" » Murabi Leadership Training." Alyssa | Refugee Watch [Online]. Available: https://www.refugee.watch/2020/11/20/murabi-leadership-training/. [Accessed: 2023-02-07T19:03:10+00:00]
rf:citation
» Murabi Leadership Training | Alyssa | Refugee Watch | https://www.refugee.watch/2020/11/20/murabi-leadership-training/ | 2023-02-07T19:03:10+00:00
https://github.com/addpipe/simple-recorderjs-demo