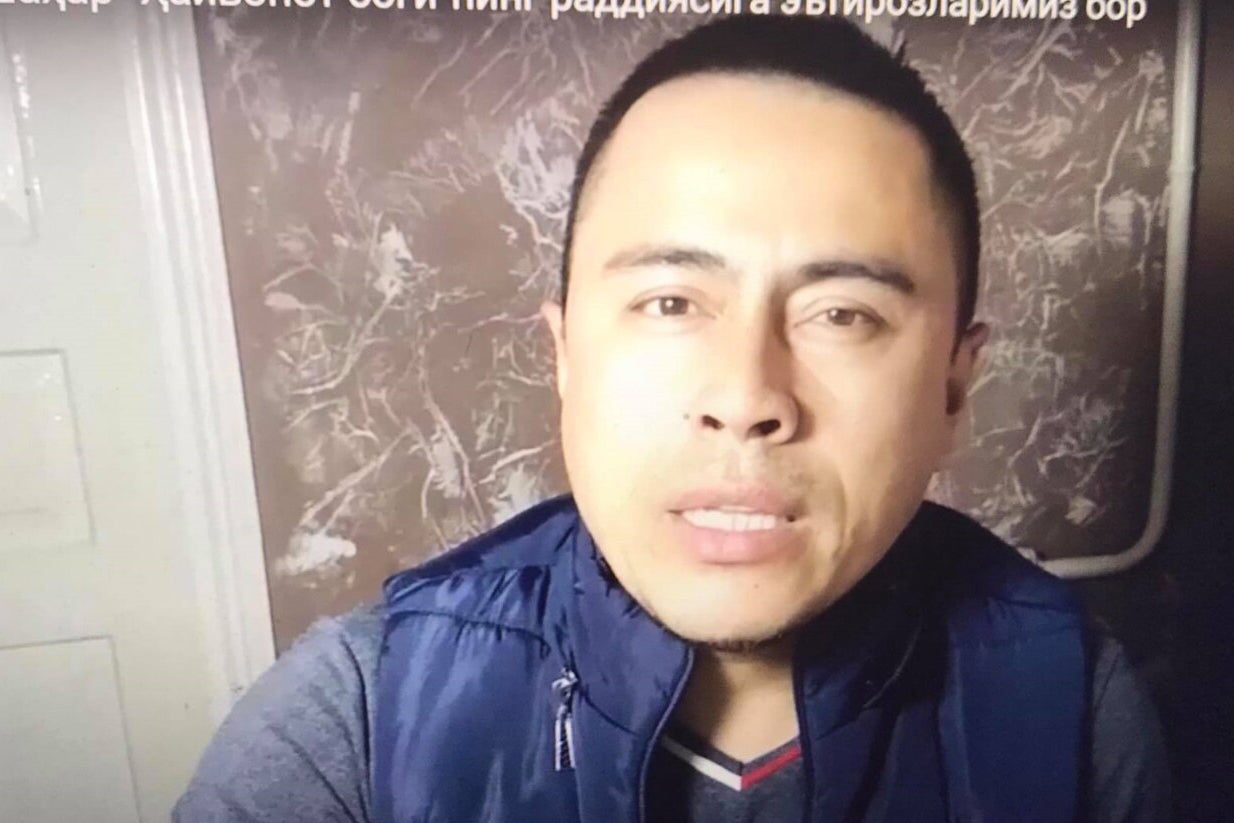 (Berlin) – An outspoken blogger from Uzbekistan faces up to 10 years in prison in a dubious extortion case brought by local authorities in the country's southeast region, Human Rights Watch said today.
Plainclothes officers detained the blogger, Otabek Sattoriy, on January 30, 2021. On February 1, a court authorized his pretrial detention on suspicion of extorting a new mobile phone from the head of a local bazaar.
"Otabek Sattoriy's blogging on sensitive issues such as alleged corruption and farmers' rights has put him in local authorities' crosshairs," said Mihra Rittmann, senior Central Asia researcher at Human Rights Watch. "Uzbek authorities should release Sattoriy, drop the charges for lack of evidence, and respect and protect freedom of expression."
Sattoriy, 40, hosts channels on Telegram and YouTube where he regularly posts videos on issues of local concern. He has publicly confronted local authorities about alleged corruption.
Based on the February 1 court ruling authorizing Sattoriy's pretrial detention, the authorities claim that in December 2020 Sattoriy went to the Dekhkanskii bazaar in Sherabad district and told the head of the bazaar that he would "publish information that the market did not host a fair [to sell products at discount prices in accordance with a presidential decree] and about other shortcomings, unless he purchased [Sattoriy] a new phone."
Sattoriy's father told Human Rights Watch that Sattoriy had gone to the bazaar in late December to report on conditions there, but that unidentified men had stopped Sattoriy from filming and had broken his phone.
On January 30, the head of the bazaar met Sattoriy outside his home in Termez and gave him a new phone. Minutes later, plainclothes police officers detained Sattoriy, claiming that the phone had been provided as part of an extortion scheme.
In a February 7 video appeal posted on YouTube, a local journalist who worked closely with Sattoriy said he was a witness to a phone conversation between Sattoriy and the head of the bazaar after the December incident. During the call, the bazaar head said he would replace Sattoriy's broken phone, the journalist said. Sattoriy's lawyer, Shavkat Shokirov, also told the Committee to Protect Journalists that the head of the bazaar had offered to replace the broken phone.
On the night of January 30, authorities searched Sattoriy's house, where his parents live with him. Sattoriy's father said that approximately 20 plainclothes officers combed through the house and confiscated two computers, a tablet his grandchildren use to play games, five flash sticks, and some coats. The officers read out a search warrant but refused to provide Sattoriy's family with a copy, he said. Police also searched the home of the journalist who accompanied Sattoriy to the bazaar in December.
Sattoriy's lawyer has called the case against his client "fabricated."
The United Kingdom's Ambassador to Uzbekistan, Tim Torlot, has expressed concern about Sattoriy's arrest, saying in a February 5 tweet, "If there's no credible evidence of extortion then this arrest is not only concerning, but another act that undermines #mediafreedom." Helena Fraser, the United Nations Resident Coordinator in Uzbekistan, noted in a tweet on February 10 that the UN "welcomes the call for fair & impartial application of the law in respect to [Sattoriy's] case."
On February 10, the Internal Affairs Ministry issued a statement about the Sattoriy case, stating that "rumors are being circulated by activists in local and foreign social media networks, questioning the office and actions of government bodies, [as well as] exaggerated messages aimed at discrediting them, [and which are] misleading the public without understanding the essence of the issue.…" The ministry warned that "disseminating unverified information related to a criminal case … is regarded as interference in an investigation … which entails criminal liability."
On February 11, the Prosecutor General's Office also issued a statement claiming among other things that the investigative authorities have received a total of seven complaints against Sattoriy, without providing any further details.
The statement also says that on February 1, the day the court authorized Sattoriy's pretrial detention on criminal charges, the Termez City Criminal Court found Sattoriy guilty of administrative offenses of slander, insult, and disseminating false information in connection with allegations he posted on social media about "the misappropriation of property and other illegal actions by employees of the Denau Coal Depot and the Zoo in Termez" in January 2021. The court fined Sattoriy 8920000 som (approximately US$850).
In recent years, Uzbek authorities have relaxed some restrictions on freedom of expression and media freedoms. On February 4, during a visit to the Ferghana region, President Shavkat Mirziyoyev himself told journalists, "Do not be afraid to relay [information] fairly. The president is behind you."
Upholding media freedoms and freedom of speech means that bloggers like Otabek Sattoriy should be able to carry out their reporting activities without fear of arbitrary arrest, Human Rights Watch said.
"Targeting Sattoriy with questionable criminal charges is a blow to freedom of speech," said Rittmann. "The authorities should release Sattoriy from pretrial detention and, unless they can present any credible evidence of criminal wrongdoing, drop the case."
This post was originally published on Human Rights Watch News.
Print
Share
Comment
Cite
Upload
Translate
APA
Human Rights Watch | Refugee Watch (2023-01-29T17:02:28+00:00) » Uzbekistan: Blogger Held on Dubious Extortion Charge. Retrieved from https://www.refugee.watch/2021/02/12/uzbekistan-blogger-held-on-dubious-extortion-charge/.
MLA
" » Uzbekistan: Blogger Held on Dubious Extortion Charge." Human Rights Watch | Refugee Watch - Friday February 12, 2021, https://www.refugee.watch/2021/02/12/uzbekistan-blogger-held-on-dubious-extortion-charge/
HARVARD
Human Rights Watch | Refugee Watch Friday February 12, 2021 » Uzbekistan: Blogger Held on Dubious Extortion Charge., viewed 2023-01-29T17:02:28+00:00,<https://www.refugee.watch/2021/02/12/uzbekistan-blogger-held-on-dubious-extortion-charge/>
VANCOUVER
Human Rights Watch | Refugee Watch - » Uzbekistan: Blogger Held on Dubious Extortion Charge. [Internet]. [Accessed 2023-01-29T17:02:28+00:00]. Available from: https://www.refugee.watch/2021/02/12/uzbekistan-blogger-held-on-dubious-extortion-charge/
CHICAGO
" » Uzbekistan: Blogger Held on Dubious Extortion Charge." Human Rights Watch | Refugee Watch - Accessed 2023-01-29T17:02:28+00:00. https://www.refugee.watch/2021/02/12/uzbekistan-blogger-held-on-dubious-extortion-charge/
IEEE
" » Uzbekistan: Blogger Held on Dubious Extortion Charge." Human Rights Watch | Refugee Watch [Online]. Available: https://www.refugee.watch/2021/02/12/uzbekistan-blogger-held-on-dubious-extortion-charge/. [Accessed: 2023-01-29T17:02:28+00:00]
rf:citation
» Uzbekistan: Blogger Held on Dubious Extortion Charge | Human Rights Watch | Refugee Watch | https://www.refugee.watch/2021/02/12/uzbekistan-blogger-held-on-dubious-extortion-charge/ | 2023-01-29T17:02:28+00:00
https://github.com/addpipe/simple-recorderjs-demo