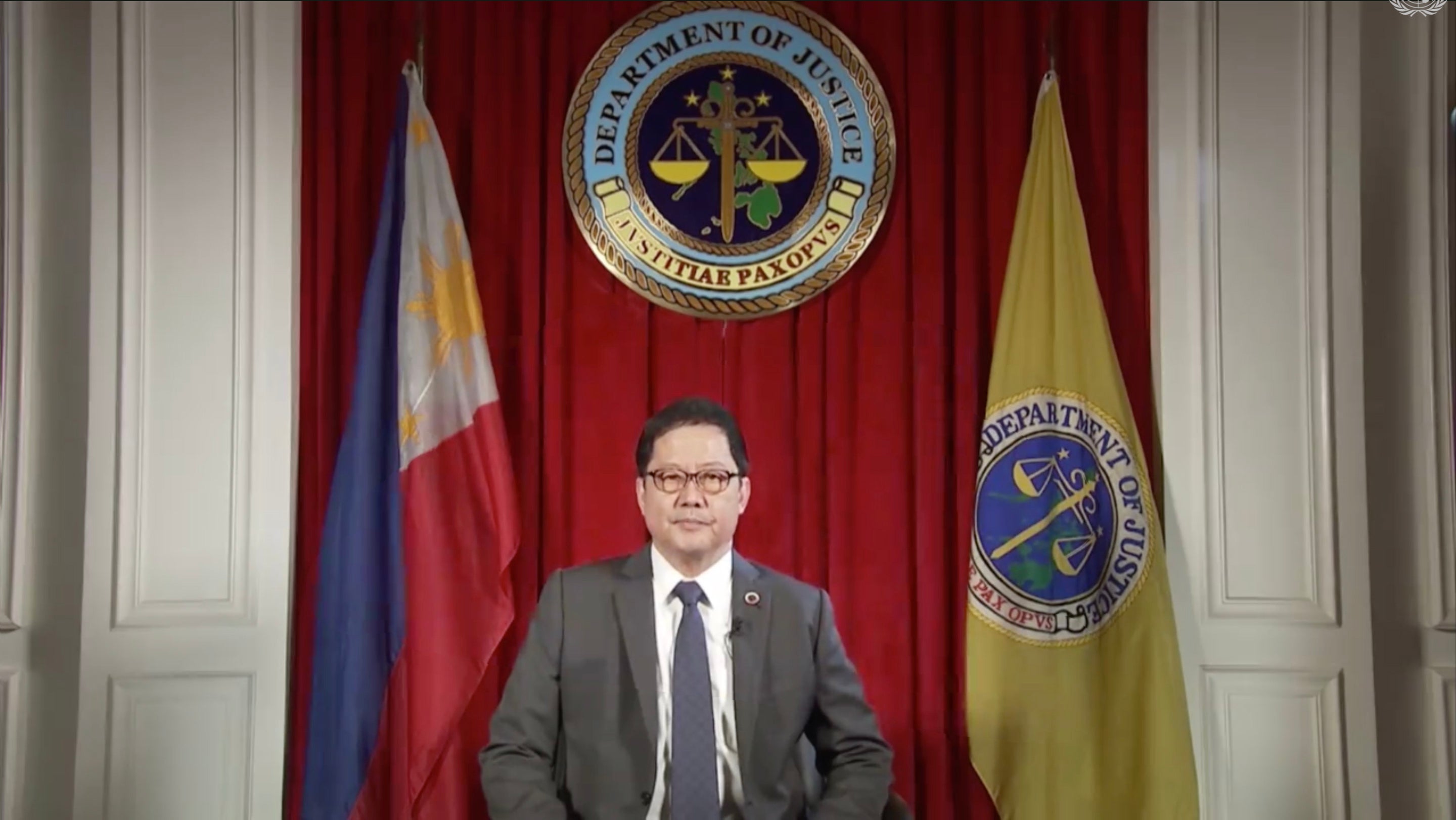 (Geneva) – The Philippine Department of Justice admitted police culpability in thousands of "drug war" killings, Human Rights Watch said today. The surprising admission provides further reason for the United Nations Human Rights Council, meeting in Geneva, to investigate President Rodrigo Duterte's abusive anti-drug campaign.
In a speech before the Human Rights Council on February 24, 2021, Justice Secretary Menardo Guevarra disclosed the initial findings of a departmental review into the deaths of drug suspects during anti-drug operations in the Philippines. He said that in many cases, police made no effort to examine recovered weapons, verify ownership, or conduct ballistic examinations. In most of the cases the Department of Justice reviewed, police failed to follow standard protocols in the coordination of drug raids and in the processing of crime scenes. His statement seriously undermines the usual government claim that drug suspects were killed because they fought back, Human Rights Watch said.
"The justice secretary's astounding disclosure is the first time the Duterte administration has admitted many police are to blame for 'drug war' deaths," said John Fisher, Geneva director at Human Rights Watch. "The UN Human Rights Council should recognize this admission as reason enough to create an independent, international commission of inquiry."
The Philippine police have killed thousands of mostly urban poor men since the "war on drugs" started after Duterte took office in June 2016. Thousands more have been murdered by unidentified assailants that Human Rights Watch research has linked to the police or other authorities. Domestic and international human rights groups have called on the Human Rights Council to undertake an independent international investigation into the killings, while the International Criminal Court continues its preliminary examination into alleged crimes against humanity.
In justifying the police killings of drug suspects, the Philippine government has repeatedly claimed that drug suspects "fought back." But research by Human Rights Watch and others have shown that this claim frequently had no basis and that, in fact, police routinely planted evidence, such as weapons and drugs on the bodies of victims, to justify their killing. The UN Office of the High Commissioner for Human Rights, in its June 2020 report, found that many of the guns recovered at the crime scene often had the same serial numbers, suggesting that these weapons were recycled.
During the Human Rights Council session in October, the government committed to take certain steps to address concerns raised over the "drug war," offering to review some police killings. Guevarra, in his February 24 speech, said the Department of Justice referred its findings to the police, which, he said, promised to take action. Allowing the police to investigate the Justice Department's findings is unrealistic and may even frustrate efforts to seek justice, Human Rights Watch said.
Since international scrutiny of the "drug war" began, the Philippine government, particularly the police, has refused to cooperate with investigations conducted by the national Commission on Human Rights. The Office of the Solicitor General, the government's lawyer, has actively tried to undermine the investigations. The police's own Internal Affairs Service has had a lackluster record in investigating police complicity in crimes while other government agencies, such as the Office of the Ombudsman, have also failed to take action. Only a handful of cases out of thousands reported are being investigated, while just one case in which police officers were implicated has resulted in a court conviction.
"The justice secretary tried to show that their findings are proof of what he called 'functioning accountability mechanisms,'" Fisher said. "Concerned governments should not be fooled by this unconvincing attempt to head off a Human Rights Council investigation. If the Philippine government now admits that its previous denials of police misconduct were false, what else are they hiding? This only makes an international inquiry by the UN even more imperative."
This post was originally published on Human Rights Watch News.
Print
Share
Comment
Cite
Upload
Translate
APA
Human Rights Watch | Refugee Watch (2022-05-20T13:49:49+00:00) » Philippines Admits Police Role in 'Drug War' Killings. Retrieved from https://www.refugee.watch/2021/02/25/philippines-admits-police-role-in-drug-war-killings/.
MLA
" » Philippines Admits Police Role in 'Drug War' Killings." Human Rights Watch | Refugee Watch - Thursday February 25, 2021, https://www.refugee.watch/2021/02/25/philippines-admits-police-role-in-drug-war-killings/
HARVARD
Human Rights Watch | Refugee Watch Thursday February 25, 2021 » Philippines Admits Police Role in 'Drug War' Killings., viewed 2022-05-20T13:49:49+00:00,<https://www.refugee.watch/2021/02/25/philippines-admits-police-role-in-drug-war-killings/>
VANCOUVER
Human Rights Watch | Refugee Watch - » Philippines Admits Police Role in 'Drug War' Killings. [Internet]. [Accessed 2022-05-20T13:49:49+00:00]. Available from: https://www.refugee.watch/2021/02/25/philippines-admits-police-role-in-drug-war-killings/
CHICAGO
" » Philippines Admits Police Role in 'Drug War' Killings." Human Rights Watch | Refugee Watch - Accessed 2022-05-20T13:49:49+00:00. https://www.refugee.watch/2021/02/25/philippines-admits-police-role-in-drug-war-killings/
IEEE
" » Philippines Admits Police Role in 'Drug War' Killings." Human Rights Watch | Refugee Watch [Online]. Available: https://www.refugee.watch/2021/02/25/philippines-admits-police-role-in-drug-war-killings/. [Accessed: 2022-05-20T13:49:49+00:00]
rf:citation
» Philippines Admits Police Role in 'Drug War' Killings | Human Rights Watch | Refugee Watch | https://www.refugee.watch/2021/02/25/philippines-admits-police-role-in-drug-war-killings/ | 2022-05-20T13:49:49+00:00
https://github.com/addpipe/simple-recorderjs-demo