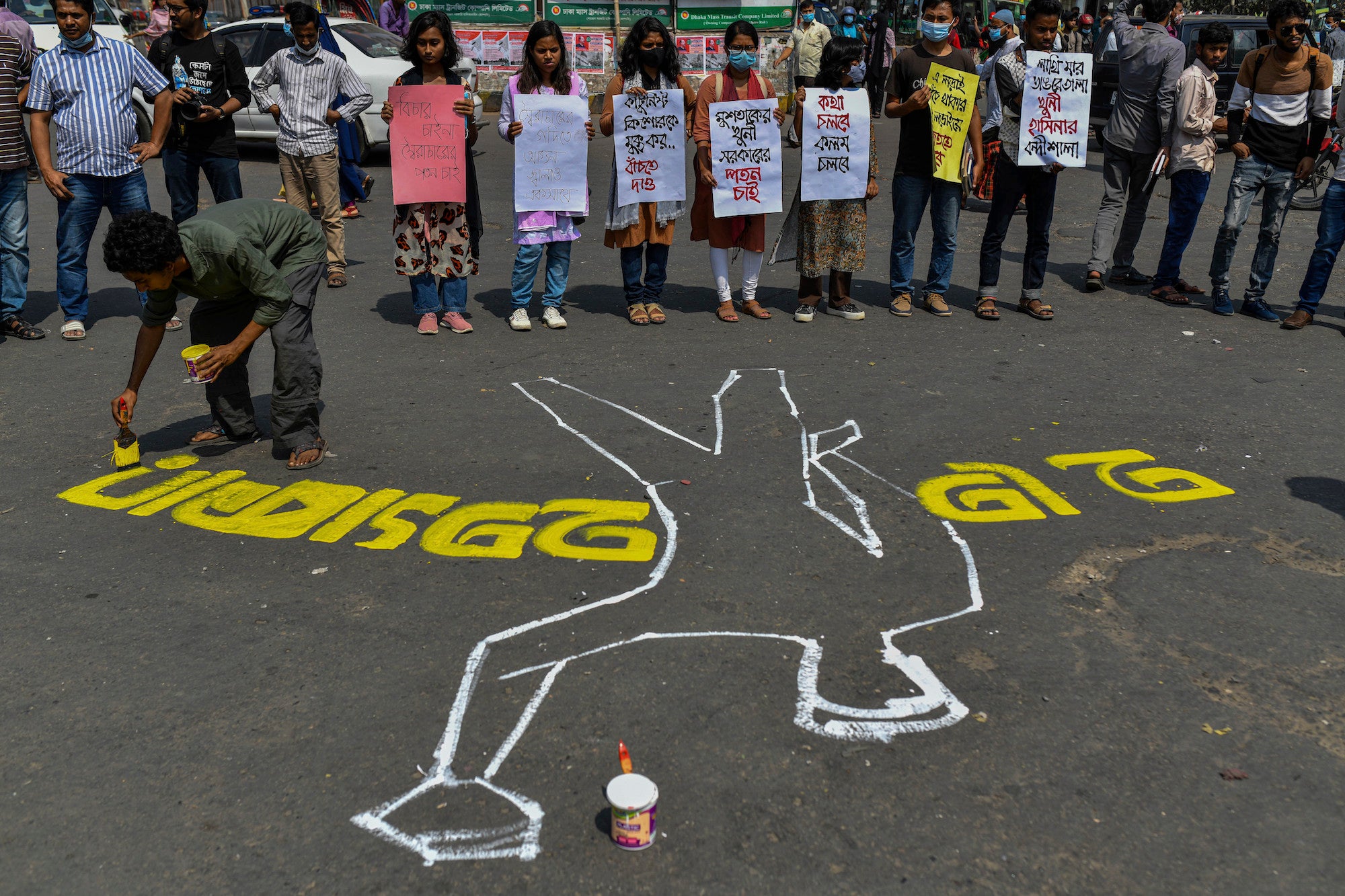 (New York) – Bangladesh authorities should conduct a transparent and independent investigation into the circumstances of Mushtaq Ahmed's death in custody, Human Rights Watch said today. Ahmed, a writer, died in prison on February 25, 2021, after being held in pretrial detention for nine months for posting on Facebook criticism of the government's response to the Covid-19 pandemic.
"Ahmed's death has sent a chill through Bangladesh civil society and should force the government into ending this peremptory treatment of peaceful criticism," said Brad Adams, Asia director. "Posting satire about the ruling Awami League on Facebook should not amount to the equivalent of a death sentence."
The authorities arrested Ahmed and a cartoonist, Ahmed Kabir Kishore, in May 2020. Ahmed had published an article criticizing the shortage of personal protective equipment for healthcare workers and had shared Kishore's cartoons about corruption in the government's response to the pandemic on the "I Am Bangladeshi" Facebook page. Ahmed's article has since been removed, and some posts on the Facebook page appear to have been deleted.
The men's bail appeals were repeatedly denied. On February 4, 2021, the men were charged under the 2018 Digital Security Act with posting on Facebook "propaganda, false or offensive information, and information that could destroy communal harmony and create unrest."
Ahmed and Kishore appeared in court on February 23, at which time, according to witnesses, Ahmed appeared in good health. At the hearing, Ahmed had in fact expressed concern over Kishore's deteriorating health with inadequate medical care.
At the hearing, Kishore told his lawyers that he was being physically tortured in detention and that he was suffering from a leg infection and an inner ear infection. Kishore's allegations of torture and inadequate care are consistent with well-documented evidence of torture in Bangladesh security force custody, and raise serious concerns over the circumstances of Ahmed's death, Human Rights Watch said.
Prison authorities told the media that when Ahmed "suddenly fell ill" the evening of February 25, he was taken directly to the jail hospital, then later pronounced dead at the Gazipur Shaheed Tajuddin Ahmed Medical College Hospital. Human Rights Watch is aware of credible allegations that Ahmed was taken to the hospital dead and in handcuffs.
On February 26, thirteen Heads of Mission of OECD countries in Dhaka issued a statement regarding Ahmed's death in custody, calling on the government of Bangladesh to conduct a "swift, transparent, and independent inquiry into the full circumstances" of his death. The Heads of Mission also noted that they would continue to "engage with the Government of Bangladesh on [their] Governments' wider concerns about the provisions and implementation of the DSA, as well as questions about its compatibility with Bangladesh's obligations under international human rights laws and standards."
The international community, including the UN high commissioner for human rights, UN independent experts, and the European Union, as well as journalists in Bangladesh, have repeatedly criticized the Digital Security Act for stifling free speech and violating international law. In May, 311 members of Bangladesh civil society issued a joint statement calling for the government to release those held under that law.
Even Gowher Rizvi, the prime minister's international affairs adviser, admitted earlier in February that there are problems with the law: "Sadly, we have now learned that some of the wordings are very loose and vague, which leaves it open to its abuse."
While the government has released thousands of people from detention to protect against the spread of Covid-19 in overcrowded prisons, it excluded critics and activists charged under the Digital Security Act. Kishore and Ahmed's bail pleas were rejected six times. UN experts have called for Kishore's release on humanitarian grounds due to his deteriorating health. They have also called for dropping charges "in light of Bangladesh's obligations under international human rights law." Kishore's next bail hearing is set for early March.
"Ahmed died in custody for simply speaking out for better protection for healthcare workers amid the pandemic," Adams said. "Bangladesh authorities should take this devastating moment to heed calls from civil society groups, as well as the UN and other experts, to immediately release all those currently held just for speaking out, and to protect the right to free expression."
This post was originally published on Human Rights Watch News.
Print
Share
Comment
Cite
Upload
Translate
APA
Human Rights Watch | Refugee Watch (2022-05-18T03:21:30+00:00) » Bangladesh: Writer Dies After 9 Months in Custody. Retrieved from https://www.refugee.watch/2021/02/26/bangladesh-writer-dies-after-9-months-in-custody/.
MLA
" » Bangladesh: Writer Dies After 9 Months in Custody." Human Rights Watch | Refugee Watch - Friday February 26, 2021, https://www.refugee.watch/2021/02/26/bangladesh-writer-dies-after-9-months-in-custody/
HARVARD
Human Rights Watch | Refugee Watch Friday February 26, 2021 » Bangladesh: Writer Dies After 9 Months in Custody., viewed 2022-05-18T03:21:30+00:00,<https://www.refugee.watch/2021/02/26/bangladesh-writer-dies-after-9-months-in-custody/>
VANCOUVER
Human Rights Watch | Refugee Watch - » Bangladesh: Writer Dies After 9 Months in Custody. [Internet]. [Accessed 2022-05-18T03:21:30+00:00]. Available from: https://www.refugee.watch/2021/02/26/bangladesh-writer-dies-after-9-months-in-custody/
CHICAGO
" » Bangladesh: Writer Dies After 9 Months in Custody." Human Rights Watch | Refugee Watch - Accessed 2022-05-18T03:21:30+00:00. https://www.refugee.watch/2021/02/26/bangladesh-writer-dies-after-9-months-in-custody/
IEEE
" » Bangladesh: Writer Dies After 9 Months in Custody." Human Rights Watch | Refugee Watch [Online]. Available: https://www.refugee.watch/2021/02/26/bangladesh-writer-dies-after-9-months-in-custody/. [Accessed: 2022-05-18T03:21:30+00:00]
rf:citation
» Bangladesh: Writer Dies After 9 Months in Custody | Human Rights Watch | Refugee Watch | https://www.refugee.watch/2021/02/26/bangladesh-writer-dies-after-9-months-in-custody/ | 2022-05-18T03:21:30+00:00
https://github.com/addpipe/simple-recorderjs-demo