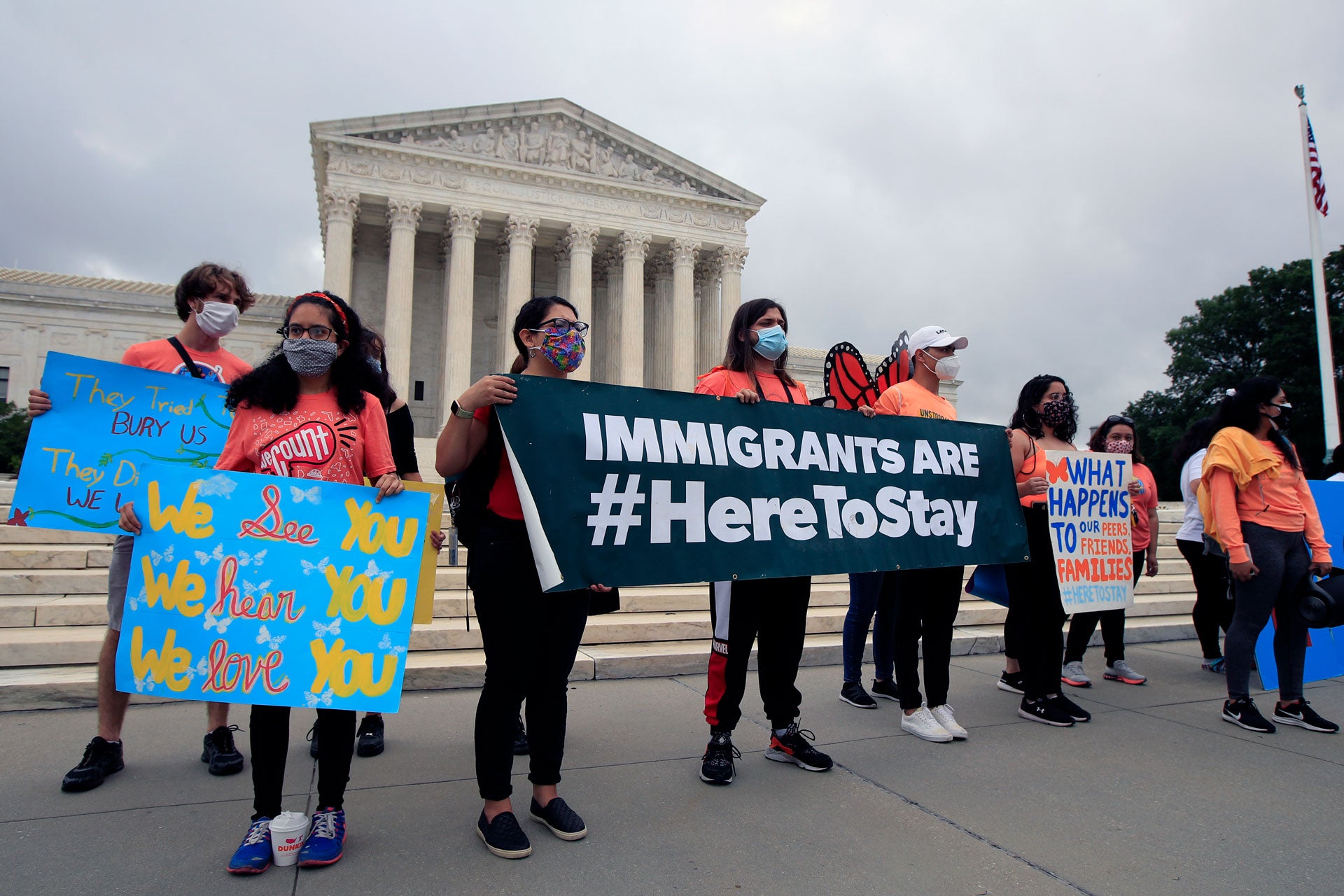 (Washington, DC) – Congress should make significant changes to a version of the Dream Act introduced on March 3, 2021 in the United States House of Representatives, Human Rights Watch said today.
The bill, the American Dream and Promise Act, or H.R. 6, was introduced by Representative Lucille Roybal-Allard and other lawmakers. But it contains provisions that would disqualify some people from a path to citizenship based on a record of offenses committed as children, disproportionately affecting people of color. The US Citizenship Act, proposed by the administration of President Joe Biden, and Senators Lindsey Graham and Dick Durbin's version of the Dream Act do not contain such harsh provisions.
"Congress should be focused on ensuring that all immigrant youth who call the US home no longer have to live in fear of an uncertain future," said Nicole Austin-Hillery, executive director of the US Program at Human Rights Watch. "But the bill contains harsh and unnecessary provisions based on youth offenses that would amplify the racial injustices in the criminal legal system and make the bill less inclusive than what the Biden administration and Senator Lindsay Graham have proposed."
The proposed bill's overarching goal of providing a path to US citizenship for immigrant youth who came to the US as children, and who meet other eligibility requirements, is a significant step to protect human rights, Human Rights Watch said. The bill would ensure that hundreds of thousands of people who consider the United States their country, a category afforded protection under international human rights law, have a path to US citizenship.
Deferred Action for Childhood Arrivals (DACA) has shielded more than 800,000 immigrants in the United States from being deported since its inception in 2012. These are largely the same people who would benefit under the proposed legislation.
The provisions that Congress should strike from the bill give the Department of Homeland Security (DHS) discretion to prevent immigrant youth from accessing the bill's path to US citizenship based on dispositions in juvenile court matters, and alleged or actual gang affiliation, Human Rights Watch said.
Based on these factors, DHS would have discretion to classify immigrant youth as threats to public safety. These provisions impose a lifelong consequence for actions committed by children, even though US and human rights law recognize that children should be treated differently because they are less culpable and uniquely capable of rehabilitation.
These provisions would compound the harm caused to youth by overly harsh laws and often abusive practices in the criminal and juvenile legal systems in the United States. Human Rights Watch has repeatedly documented human rights abuses and unfair treatment suffered by people in the US who are targeted for alleged gang associations or offenses committed as children.
The unnecessary discretionary measures in the proposed bill would affect a population of children who are disproportionately people of color. Despite a 50-year low in youth crime, Black, brown, and Latinx youth are criminalized at a higher rate than their white counterparts. According to Justice department data, Latinx youth are 1.4 times more likely to be detained or committed to a youth facility and Black youth are nearly five times more likely than their white peers.
"Congress should stand firm against the racial injustice that has permeated the US juvenile justice and immigration systems by excising these provisions from an otherwise landmark bill," Austin-Hillery said. "Congress should pass legislation that helps this country overcome racism, instead of including measures that increase the harm of unjust criminalization."
On March 1, Human Rights Watch, together with several other groups, sent a letter to Chairperson Jerry Nadler and other members of the House Judiciary Committee urging them to make changes before introducing the House bill. The letter explains that the types of offenses that would bar otherwise eligible youth under the proposed bill are disproportionately imposed against youth of color and are often kept under seal. Provisions in the bill would allow judicial review over the DHS decisions, but that would come far too late in the process and be insufficient to correct the resulting harm, Human Rights Watch said.
Human Rights Watch along with other juvenile justice and youth groups previously raised similar concerns with the American Dream and Promise Act of 2019 due to these discretionary bars. These provisions were a serious step back to 1990s-era crime and terrorism laws, which disproportionately profiled and criminalized immigrant youth of color, reproducing racial inequality while also perpetuating widespread immigration detention and deportation.
Police participation in the enforcement of immigration laws has also served to criminalize segments of Black and Latinx populations. The police cooperation can range from traffic stops that target Latinx people for potential immigration violations to turning noncitizens, including DACA recipients and other legal residents, over to immigration authorities following arrests. The US government should end any police involvement in enforcing immigration laws, Human Rights Watch said.
In September 2017, the administration of former President Donald Trump took steps to rescind the DACA program, placing recipients in legal jeopardy. However, in June 2020, the United States Supreme Court reversed the decision to end DACA and the Biden administration has pledged to fortify and preserve DACA. It is now up to Congress to enact legislation that would broadly and permanently protect DACA recipients.
"Barriers based on youth offenses and mere allegations run counter to the inclusive approach to that the Biden administration and Senator Lindsay Graham have proposed," Austin-Hillery said. "If Congress does the right thing and removes the harmful juvenile-justice-related provisions
This post was originally published on Human Rights Watch News.
Print
Share
Comment
Cite
Upload
Translate
APA
Human Rights Watch | Refugee Watch (2022-05-23T00:03:48+00:00) » US: 'New' Dream Act Not Full Reform. Retrieved from https://www.refugee.watch/2021/03/04/us-new-dream-act-not-full-reform/.
MLA
" » US: 'New' Dream Act Not Full Reform." Human Rights Watch | Refugee Watch - Thursday March 4, 2021, https://www.refugee.watch/2021/03/04/us-new-dream-act-not-full-reform/
HARVARD
Human Rights Watch | Refugee Watch Thursday March 4, 2021 » US: 'New' Dream Act Not Full Reform., viewed 2022-05-23T00:03:48+00:00,<https://www.refugee.watch/2021/03/04/us-new-dream-act-not-full-reform/>
VANCOUVER
Human Rights Watch | Refugee Watch - » US: 'New' Dream Act Not Full Reform. [Internet]. [Accessed 2022-05-23T00:03:48+00:00]. Available from: https://www.refugee.watch/2021/03/04/us-new-dream-act-not-full-reform/
CHICAGO
" » US: 'New' Dream Act Not Full Reform." Human Rights Watch | Refugee Watch - Accessed 2022-05-23T00:03:48+00:00. https://www.refugee.watch/2021/03/04/us-new-dream-act-not-full-reform/
IEEE
" » US: 'New' Dream Act Not Full Reform." Human Rights Watch | Refugee Watch [Online]. Available: https://www.refugee.watch/2021/03/04/us-new-dream-act-not-full-reform/. [Accessed: 2022-05-23T00:03:48+00:00]
rf:citation
» US: 'New' Dream Act Not Full Reform | Human Rights Watch | Refugee Watch | https://www.refugee.watch/2021/03/04/us-new-dream-act-not-full-reform/ | 2022-05-23T00:03:48+00:00
https://github.com/addpipe/simple-recorderjs-demo