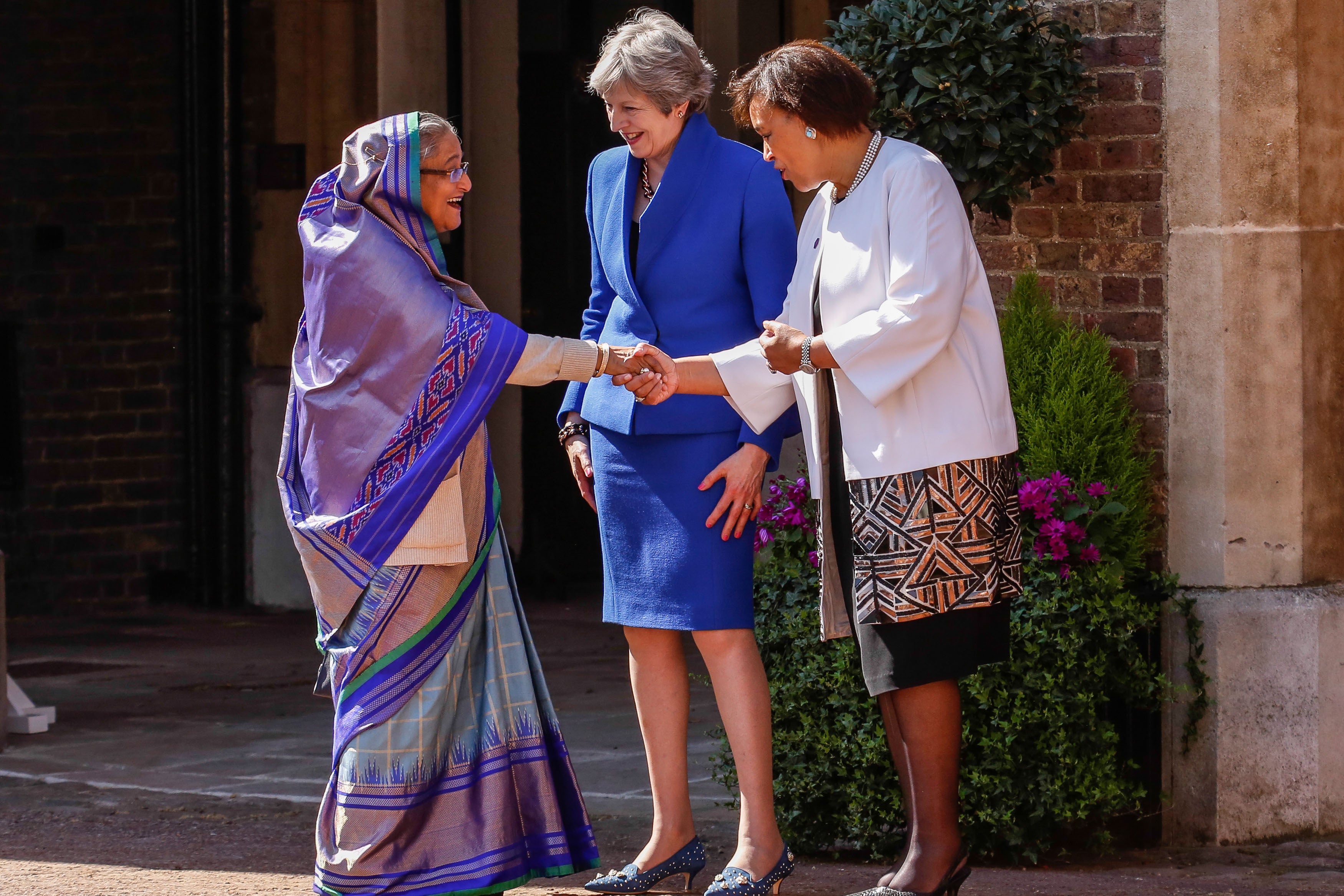 (London) – Commonwealth Secretary-General Baroness Patricia Scotland should publicly clarify comments she made praising Bangladesh Prime Minister Sheikh Hasina over her government's Covid-19 response, Human Rights Watch said today in a letter to Scotland. In a March 5, 2021 opinion piece and a tweet Scotland lauded Sheikh Hasina's leadership as "compassionate" and "inspiring."
"The Bangladesh government's response to Covid-19 has been to use the pandemic as a pretext to further censor free speech and the media, threaten academic freedom, and arrest artists, students, doctors, political opposition members, and activists for speaking out about the government's handling of the pandemic," Brad Adams, Asia director at Human Rights Watch. "This is neither compassionate nor inspiring."
Scotland's comments came just days after the death on February 25 of a dissident writer, Mushtaq Ahmed, in custody. Ahmed was arrested in May 2020 for posting on Facebook that healthcare workers needed more personal protective equipment. He had been held in pretrial detention for nine months during which it has been credibly alleged that he was tortured. After a public outcry over Ahmed's death, Ahmed Kabir Kishore, a cartoonist arrested at the same time, was granted bail. He described suffering severe torture after he was taken into custody, and also said that Ahmed had been brutally beaten.
In the Commonwealth Charter, member states commit to core values and principles, including upholding human rights, freedom of expression, the rule of law, and the role of civil society. The Commonwealth website states that, "The Commonwealth Secretariat is the intergovernmental organisation that supports member countries to achieve the Commonwealth's aims of development, democracy and peace," including , among other things, to "promote justice and human rights … support decision-makers to make good laws … help strengthen governance and build inclusive public institutions."
"It is hard to understand what criteria the Commonwealth used to conclude that Sheikh Hasina should be lauded for her leadership and singled out as an inspiring figure," Adams said. "Baroness Scotland should clarify her statements and stand with victims against abuses in Bangladesh, including those carried out as part of the response to the Covid-19 pandemic."
This post was originally published on Human Rights Watch News.
Print
Share
Comment
Cite
Upload
Translate
APA
Human Rights Watch | Refugee Watch (2022-05-19T02:29:15+00:00) » Commonwealth: Clarify Praise of Bangladesh Leader. Retrieved from https://www.refugee.watch/2021/03/15/commonwealth-clarify-praise-of-bangladesh-leader/.
MLA
" » Commonwealth: Clarify Praise of Bangladesh Leader." Human Rights Watch | Refugee Watch - Monday March 15, 2021, https://www.refugee.watch/2021/03/15/commonwealth-clarify-praise-of-bangladesh-leader/
HARVARD
Human Rights Watch | Refugee Watch Monday March 15, 2021 » Commonwealth: Clarify Praise of Bangladesh Leader., viewed 2022-05-19T02:29:15+00:00,<https://www.refugee.watch/2021/03/15/commonwealth-clarify-praise-of-bangladesh-leader/>
VANCOUVER
Human Rights Watch | Refugee Watch - » Commonwealth: Clarify Praise of Bangladesh Leader. [Internet]. [Accessed 2022-05-19T02:29:15+00:00]. Available from: https://www.refugee.watch/2021/03/15/commonwealth-clarify-praise-of-bangladesh-leader/
CHICAGO
" » Commonwealth: Clarify Praise of Bangladesh Leader." Human Rights Watch | Refugee Watch - Accessed 2022-05-19T02:29:15+00:00. https://www.refugee.watch/2021/03/15/commonwealth-clarify-praise-of-bangladesh-leader/
IEEE
" » Commonwealth: Clarify Praise of Bangladesh Leader." Human Rights Watch | Refugee Watch [Online]. Available: https://www.refugee.watch/2021/03/15/commonwealth-clarify-praise-of-bangladesh-leader/. [Accessed: 2022-05-19T02:29:15+00:00]
rf:citation
» Commonwealth: Clarify Praise of Bangladesh Leader | Human Rights Watch | Refugee Watch | https://www.refugee.watch/2021/03/15/commonwealth-clarify-praise-of-bangladesh-leader/ | 2022-05-19T02:29:15+00:00
https://github.com/addpipe/simple-recorderjs-demo