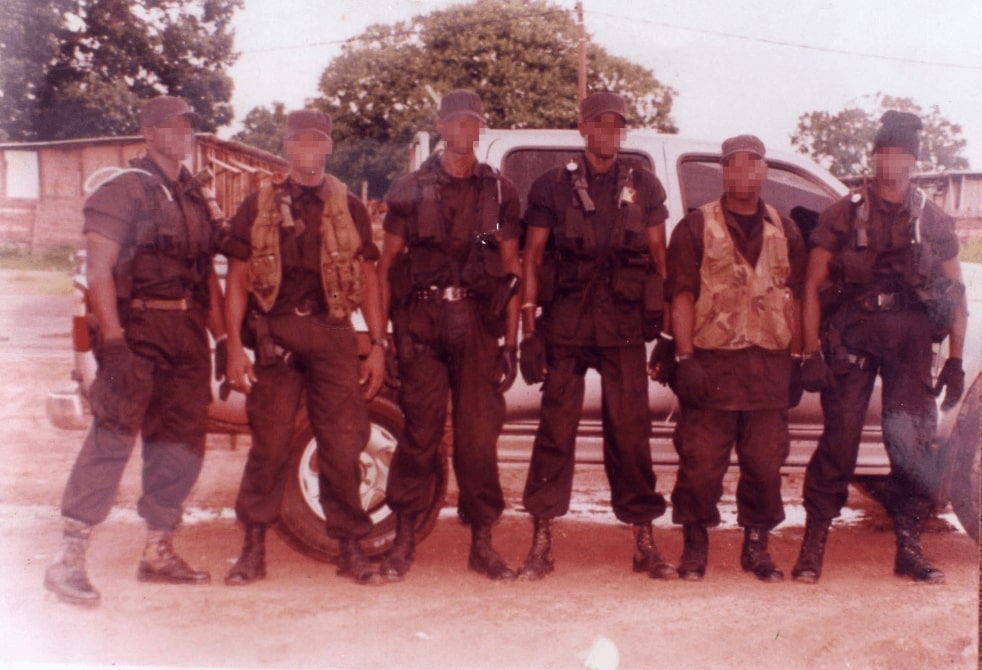 (Berlin) – The arrest in Germany on March 16, 2021, of an alleged former Gambian "death squad" member suspected of crimes against humanity is an important step for Gambian victims and international justice, Human Rights Watch said today.
"Bai L." was an alleged member of the notorious "Junglers" death squad, set up by then-president Yahya Jammeh in the mid-1990s. German officials have withheld the full name of the accused in line with national privacy laws. Jammeh's 22-year rule was marked by widespread human rights violations. Jammeh is in Equatorial Guinea, to which he fled after losing the 2016 Gambian presidential election to Adama Barrow.
"Germany's arrest of an alleged 'Jungler' shows that the long arm of the law is catching up to Yahya Jammeh's accomplices around the world," said Reed Brody, senior counsel at Human Rights Watch. "Jammeh's henchmen in Gambia and even Jammeh himself in Equatorial Guinea may soon be held to account for their alleged international crimes."
Bai L. is the third alleged accomplice of Jammeh to be detained abroad using the legal principle of universal jurisdiction, including a former Jungler, Michael Sang Correa, in the United States, and Gambia's former interior minister, Ousman Sonko, in Switzerland. Universal jurisdiction allows for investigating and prosecuting the most serious crimes under international law no matter where they were committed and regardless of the nationality of the suspects or victims.
German prosecutors accuse Bai L., who was living in the city of Hanover, of acting as a driver for the Junglers unit between December 2003 and December 2006. He is alleged to have been involved in three "liquidation orders," driving Jungler members to attack sites.
Among those targeted were a newspaper editor, Dayda Hydara, a critic of the Jammeh government who was murdered in 2004, and a lawyer, Ousman Sillah, who survived a murder attempt a year earlier.
Besides these cases of crimes against humanity, murder, and attempted murder, Bai L. has been implicated in other Jammeh government crimes. Former Junglers told the Gambian Truth, Reconciliation and Reparations Commission that Bai L. allegedly participated in the murder of 59 West African migrants in 2005. Bai L himself described in a 2016 radio interview his participation in the migrants case, the execution of former intelligence chief Daba Marenah and four associates in April 2006, the Hydara killing, and the Sillah shooting.
"I want to see justice done for me and for all the others who were victimized by Yahya Jammeh and his security forces," said Baba Hydara, son of newspaper editor, Deyda Hydara. "Everyone involved in the murder of my dad will face justice, and we won't stop until each one of them is brought to a court of law."
The Gambian truth commission has also heard testimony that Jammeh participated in the rape and sexual assault of women brought to him, forced HIV-positive Gambians to give up their medicine and put themselves in his personal care, and was responsible for ordering the killing and torture of political opponents and "witch hunts" in which hundreds of women were arbitrarily detained. The commission, which is tasked with the "identification and recommendation for prosecution of persons who bear the greatest responsibility for human rights violations and abuses," is expected to deliver its report in July.
German authorities are also investigating individuals alleged to have committed grave crimes such as torture, war crimes, and crimes against humanity in Syria and other countries. In April 2020, judges in the city of Koblenz began hearing evidence in the first trial involving alleged torture by state agents during Syria's brutal decade-long armed conflict. One of the two people accused in the case was convicted on February 24.
"Universal jurisdiction cases are an increasingly important part of international efforts to hold those responsible for atrocities accountable, provide justice to victims who have nowhere else to turn, deter future crimes, and help ensure that countries do not become safe havens for human rights abusers," Brody said. "Those who have committed international crimes need to be brought to justice wherever they may be found."
This post was originally published on Human Rights Watch News.
Print
Share
Comment
Cite
Upload
Translate
APA
Human Rights Watch | Refugee Watch (2022-05-18T02:56:48+00:00) » Gambia: Alleged 'Death Squad' Member Arrested in Germany. Retrieved from https://www.refugee.watch/2021/03/17/gambia-alleged-death-squad-member-arrested-in-germany/.
MLA
" » Gambia: Alleged 'Death Squad' Member Arrested in Germany." Human Rights Watch | Refugee Watch - Wednesday March 17, 2021, https://www.refugee.watch/2021/03/17/gambia-alleged-death-squad-member-arrested-in-germany/
HARVARD
Human Rights Watch | Refugee Watch Wednesday March 17, 2021 » Gambia: Alleged 'Death Squad' Member Arrested in Germany., viewed 2022-05-18T02:56:48+00:00,<https://www.refugee.watch/2021/03/17/gambia-alleged-death-squad-member-arrested-in-germany/>
VANCOUVER
Human Rights Watch | Refugee Watch - » Gambia: Alleged 'Death Squad' Member Arrested in Germany. [Internet]. [Accessed 2022-05-18T02:56:48+00:00]. Available from: https://www.refugee.watch/2021/03/17/gambia-alleged-death-squad-member-arrested-in-germany/
CHICAGO
" » Gambia: Alleged 'Death Squad' Member Arrested in Germany." Human Rights Watch | Refugee Watch - Accessed 2022-05-18T02:56:48+00:00. https://www.refugee.watch/2021/03/17/gambia-alleged-death-squad-member-arrested-in-germany/
IEEE
" » Gambia: Alleged 'Death Squad' Member Arrested in Germany." Human Rights Watch | Refugee Watch [Online]. Available: https://www.refugee.watch/2021/03/17/gambia-alleged-death-squad-member-arrested-in-germany/. [Accessed: 2022-05-18T02:56:48+00:00]
rf:citation
» Gambia: Alleged 'Death Squad' Member Arrested in Germany | Human Rights Watch | Refugee Watch | https://www.refugee.watch/2021/03/17/gambia-alleged-death-squad-member-arrested-in-germany/ | 2022-05-18T02:56:48+00:00
https://github.com/addpipe/simple-recorderjs-demo