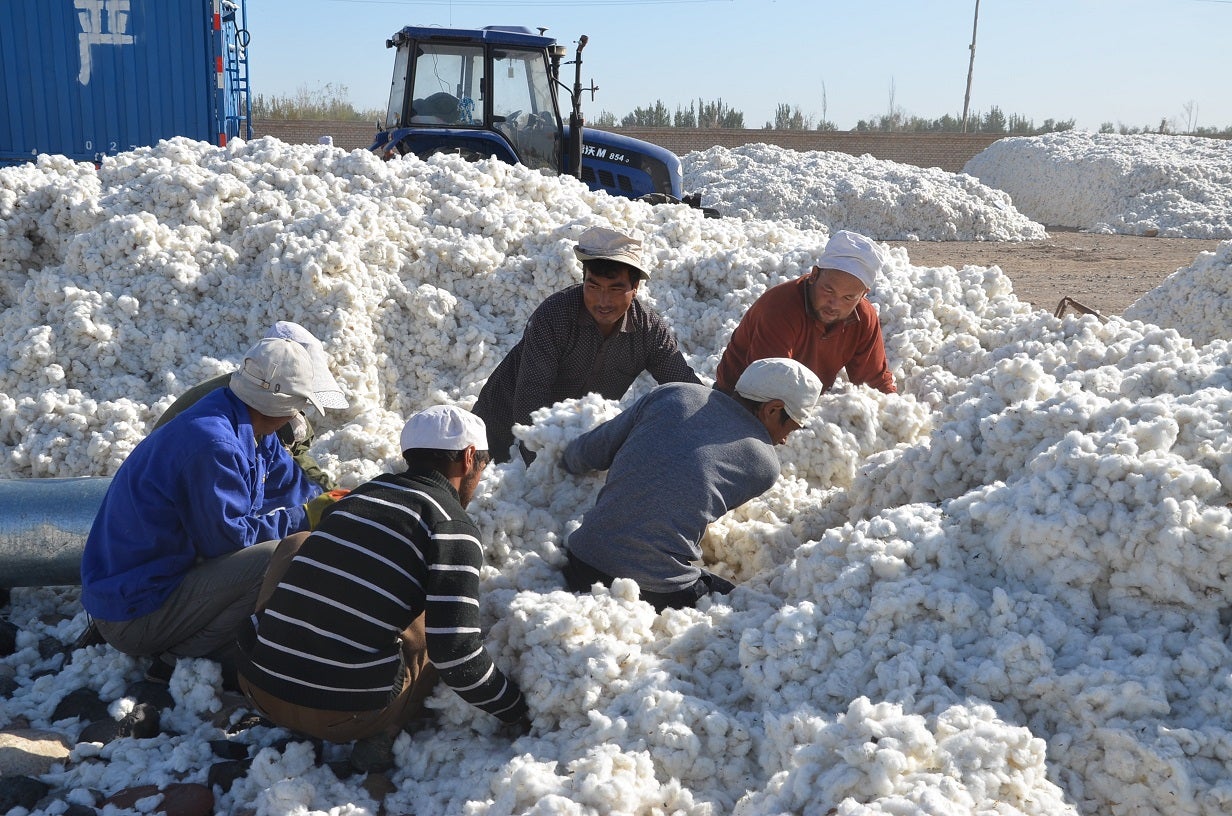 (New York) – Companies threatened with Chinese government-promoted boycotts should stand firm in their opposition to forced labor, Human Rights Watch said today.
Chinese authorities have recently encouraged consumers across China to boycott companies that have publicly expressed concerns about forced labor and other human rights violations against Uyghurs and other Turkic Muslims in and from the northwest region of Xinjiang.
"The Chinese government is showing its true colors by pressuring companies to be complicit in abuses rather than working together to end violations against Turkic Muslims," said Sophie Richardson, China director. "This is a litmus test of companies' upholding their human rights commitments."
On March 22 and 23, 2021, Canada, the European Union, the United Kingdom, and the United States announced new coordinated sanctions on four Chinese government officials and the Xinjiang Production and Construction Corps (XPCC) Public Security Bureau. The sanctions were imposed because of those individuals' and the XPCC's alleged involvement in human rights violations, including forced labor, in the Xinjiang region and particularly in the cotton and textile sectors.
The Chinese government then announced sanctions on various European politicians, academics, and institutions. Chinese government agencies and netizens have focused fresh attention on international brands that had expressed concerns about forced labor. On March 25, a Chinese Commerce Ministry spokesperson said, "Pure and flawless Xinjiang cotton cannot allow any forces to smear or blacken it." Netizens have sharply criticized several companies in online forums and called for boycotts of the companies' products.
On March 24, the Communist Youth League targeted the Swedish retailer H&M, which had publicly expressed concerns about Turkic Muslim forced labor in September 2020. At that time, H&M announced that it would end its relationship with Huafu Fashion, a yarn supplier with operations in Xinjiang that had been identified as using forced labor. Within a day of the Youth League statement three major Chinese e-retailers had removed all H&M products from their online stores. Some netizens commented on H&M's official Weibo account: "Are you ready? Completely disappear in China," "Countdown to the beginning of withdrawing from the China market," and "I won't buy any products from you anymore, will ask people around me not to buy too."
Within hours, the online criticism had spread to Nike. The company had said nearly a year ago it was "concerned about reports of forced labor in, and connected to, Xinjiang." A celebrity said on Douyin, China's version of TikTok: "Is Nike crazy? Dare to wrestle with China."
At least three major brands have taken down statements on their websites. Inditex, which owns Zara, has removed a statement explaining its policies against forced labor; PVH has done the same. VF Corporation has taken down a statement specifically addressing its concerns about Xinjiang.
Other companies, including Fila and Hugo Boss, said in late March they will continue to use cotton from Xinjiang. Neither company made references to forced labor or a need to perform human rights due diligence.
Increasingly governments require and consumers expect companies to comply with the United Nations Guiding Principles on Business and Human Rights. Under those standards, companies have a responsibility to conduct human rights due diligence throughout their supply chains to ensure that their activities do not cause or enable harm, and that there are meaningful remedies available to workers or others effected. Some major brands, including Eileen Fisher and Marks & Spencer, have joined the "Call to Action" developed by the Coalition to End Forced Labor in the Uyghur Region.
The Chinese government's actions – effectively punishing the companies trying to uphold those standards – are a brazen attempt to weaken an emerging global norm, Human Rights Watch said.
"Chinese authorities are once again arbitrarily punishing a particular group for expressed views it doesn't like," Richardson said. "Beijing may find that lashing out at companies only amplifies precisely the concerns they expressed."
This post was originally published on Human Rights Watch News.
Print
Share
Comment
Cite
Upload
Translate
APA
Human Rights Watch | Refugee Watch (2022-10-04T10:24:45+00:00) » China: Companies Should Resist Boycott Threats. Retrieved from https://www.refugee.watch/2021/03/27/china-companies-should-resist-boycott-threats/.
MLA
" » China: Companies Should Resist Boycott Threats." Human Rights Watch | Refugee Watch - Saturday March 27, 2021, https://www.refugee.watch/2021/03/27/china-companies-should-resist-boycott-threats/
HARVARD
Human Rights Watch | Refugee Watch Saturday March 27, 2021 » China: Companies Should Resist Boycott Threats., viewed 2022-10-04T10:24:45+00:00,<https://www.refugee.watch/2021/03/27/china-companies-should-resist-boycott-threats/>
VANCOUVER
Human Rights Watch | Refugee Watch - » China: Companies Should Resist Boycott Threats. [Internet]. [Accessed 2022-10-04T10:24:45+00:00]. Available from: https://www.refugee.watch/2021/03/27/china-companies-should-resist-boycott-threats/
CHICAGO
" » China: Companies Should Resist Boycott Threats." Human Rights Watch | Refugee Watch - Accessed 2022-10-04T10:24:45+00:00. https://www.refugee.watch/2021/03/27/china-companies-should-resist-boycott-threats/
IEEE
" » China: Companies Should Resist Boycott Threats." Human Rights Watch | Refugee Watch [Online]. Available: https://www.refugee.watch/2021/03/27/china-companies-should-resist-boycott-threats/. [Accessed: 2022-10-04T10:24:45+00:00]
rf:citation
» China: Companies Should Resist Boycott Threats | Human Rights Watch | Refugee Watch | https://www.refugee.watch/2021/03/27/china-companies-should-resist-boycott-threats/ | 2022-10-04T10:24:45+00:00
https://github.com/addpipe/simple-recorderjs-demo