Despite authorities being informed and several vessels on the search, between 20 and 47 people drowned in the Aegean Sea, near the Greek island of Folegandros. Once again, people died on their journey to Europe. These deaths are preventable and a direct result of the European border regime that forces people onto more dangerous routes.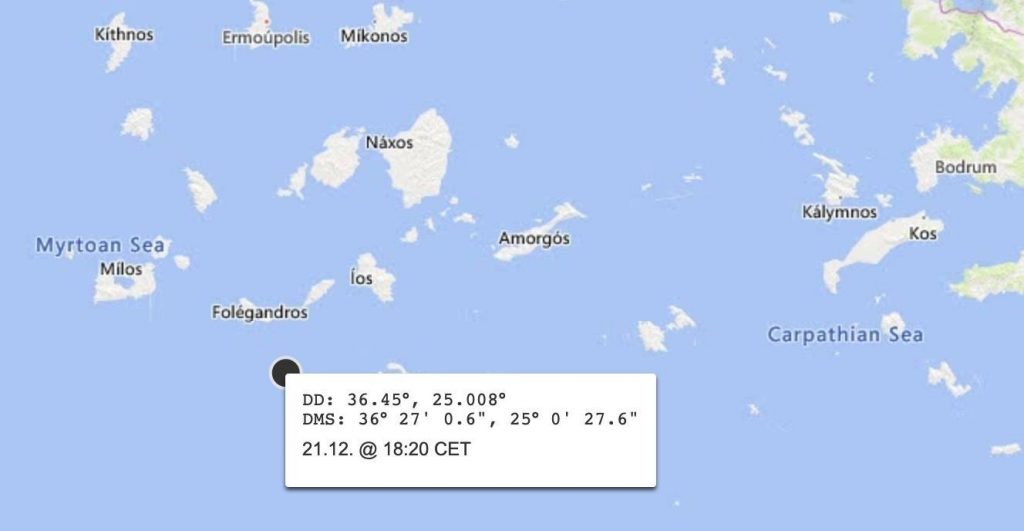 Location of boat at 18.20 CET. Photo: Alarm Phone
In the evening of the 21 December 2021, the Alarm Phone was informed about a boat in distress in the Aegean Sea. A relative told us that there were around 60 people on board, that water was entering the boat and that the boat was sinking. We immediately informed the responsible authorities about the emergency near the small Greek island Folegandros. At 18:45 CET, we alerted the Hellenic Coast Guard via email and telephone. Shortly after, at 19:18 CET, we reached the people on the boat. However, communication was not possible due to heavy background noise. In addition, the call quickly broke. Despite trying constantly, we were never able to re-establish contact with the people on the boat after that. At 19:28 CET, the Hellenic Coast Guard told us via phone that they would be coordinating the rescue. Also Frontex wrote an email, saying they immediately forwarded the distress call to the Greek authorities.
We then contacted several vessels, who were found to be nearby the distress location. Among others, we alerted the ferryboat Melina 2 to request their assistance at sea. Their personnel quickly responded: the Hellenic Coast Guard already requested their help and that they were on their way to support the search.
Around midnight, a relative informed us that he received direct information of a person who had been rescued. The survivor reported that the Hellenic Coast Guard confiscated the phones of the other passengers, which made it difficult to receive more and direct information. Also the Melina Maritime Company confirmed that people were found and rescued. Up until this point, however, it remained unclear how many people had been rescued and if there were any people missing. When we called the Hellenic Coast Guard again to ask for updated information, they refused to share any details and just repeated that a Search and Rescue operation was still ongoing. Throughout the night, we tried all possible channels to find accurate information, but without success.
When we called the Hellenic Coast Guard again at 08:37 CET on 22 December 2021, they forwarded us to their press office. The press office again confirmed a still ongoing search and rescue operation south of Folegandros. According to their information, so far 12 people were rescued. In addition, an unknown number of people missing was reported. There was contradictory information about the total number of people who were initially on the boat, differing between 32 and 60. At the same time, Greek media started to report about the shipwreck, saying up to 20 people were missing. The Hellenic Coast Guard said they're continuing the search for the missing.
During the day, we tried to receive more accurate information about the number of people missing. Up until today, we learned about three dead bodies that were found. One more survivor was found after 24 hours at sea. We will continue to investigate and to collect more information.
Until today, questions regarding the rescue operation remain open: Was a rescue mission launched in time or was it delayed? Could these deaths have been prevented by a more immediate reaction of the responsible authorities?
Again, dozens of people have died on the Aegean route despite being close to shores. Such tragedies are the direct result of the violent pushback regime put into practice by the Greek government. People are forced to remain invisible and take more and more dangerous and long routes from Turkey until Italy on their journey to Europe. During this journey, the Coast Guards are no potential rescuer but rather a danger to them. Only open and safe routes towards Europe will prevent such tragedies in future, which is why the Alarm Phone continues to struggle for safe passage and freedom of movement. We will investigate further to find out the exact developments of this tragedy and will try to support the relatives in their search for their loved ones.
We mourn the deaths. Our thoughts are with their relatives and friends.
We stand in solidarity with all survivors and all the people on the move, who reject EU's closed border policy and fight for freedom of movement.
***
Positions:
36°27'00.6″N 25°00'27.6″E (18:20 CET 21.12.)
36°26'57.4″N 25°00'24.5″E (19:30 CET, 21.12)
36.450474, 25.008118 (19:35 CET, 21.12.)
Twitter:
https://twitter.com/alarm_phone/status/1473394806269390857
Video of C.R.G:
https://www.youtube.com/watch?v=7tME_GS8YJg
Media reports in Greek:
https://www.kathimerini.gr/society/561640975/folegandros-vythistike-skafos-me-metanastes-se-exelixi-epicheirisi-diasosis/amp/
https://left.gr/news/nayagio-sti-folegandro-12-prosfyges-diasothikan-20-toylahiston-oi-agnooymenoi
Media reports in English:
One drowned, dozens missing: https://www.ekathimerini.com/news/1174289/one-migrant-drowns-dozens-believed-missing-off-greek-island/
Three dead, many missing: https://apnews.com/article/europe-greece-migration-18ab24f950416386333b83a652af296a
In total, three bodies were found: https://www.amna.gr/en/article/610913/Two-more-bodies-found-after-sinking-of-vessel-with-migrants-off-Folegandros
One man was found alive after 24 hours at sea! https://www.efsyn.gr/ellada/koinonia/324848_nayagio-folegandroy-soos-anasyrthike-prosfygas-24-ores-meta
The post Dozens of people drown in the Aegean Sea appeared first on Alarm Phone.
This post was originally published on Alarm Phone.
Print
Share
Comment
Cite
Upload
Translate
APA
s010 | Refugee Watch (2022-05-22T02:09:56+00:00) » Dozens of people drown in the Aegean Sea. Retrieved from https://www.refugee.watch/2021/12/23/dozens-of-people-drown-in-the-aegean-sea/.
MLA
" » Dozens of people drown in the Aegean Sea." s010 | Refugee Watch - Thursday December 23, 2021, https://www.refugee.watch/2021/12/23/dozens-of-people-drown-in-the-aegean-sea/
HARVARD
s010 | Refugee Watch Thursday December 23, 2021 » Dozens of people drown in the Aegean Sea., viewed 2022-05-22T02:09:56+00:00,<https://www.refugee.watch/2021/12/23/dozens-of-people-drown-in-the-aegean-sea/>
VANCOUVER
s010 | Refugee Watch - » Dozens of people drown in the Aegean Sea. [Internet]. [Accessed 2022-05-22T02:09:56+00:00]. Available from: https://www.refugee.watch/2021/12/23/dozens-of-people-drown-in-the-aegean-sea/
CHICAGO
" » Dozens of people drown in the Aegean Sea." s010 | Refugee Watch - Accessed 2022-05-22T02:09:56+00:00. https://www.refugee.watch/2021/12/23/dozens-of-people-drown-in-the-aegean-sea/
IEEE
" » Dozens of people drown in the Aegean Sea." s010 | Refugee Watch [Online]. Available: https://www.refugee.watch/2021/12/23/dozens-of-people-drown-in-the-aegean-sea/. [Accessed: 2022-05-22T02:09:56+00:00]
rf:citation
» Dozens of people drown in the Aegean Sea | s010 | Refugee Watch | https://www.refugee.watch/2021/12/23/dozens-of-people-drown-in-the-aegean-sea/ | 2022-05-22T02:09:56+00:00
https://github.com/addpipe/simple-recorderjs-demo