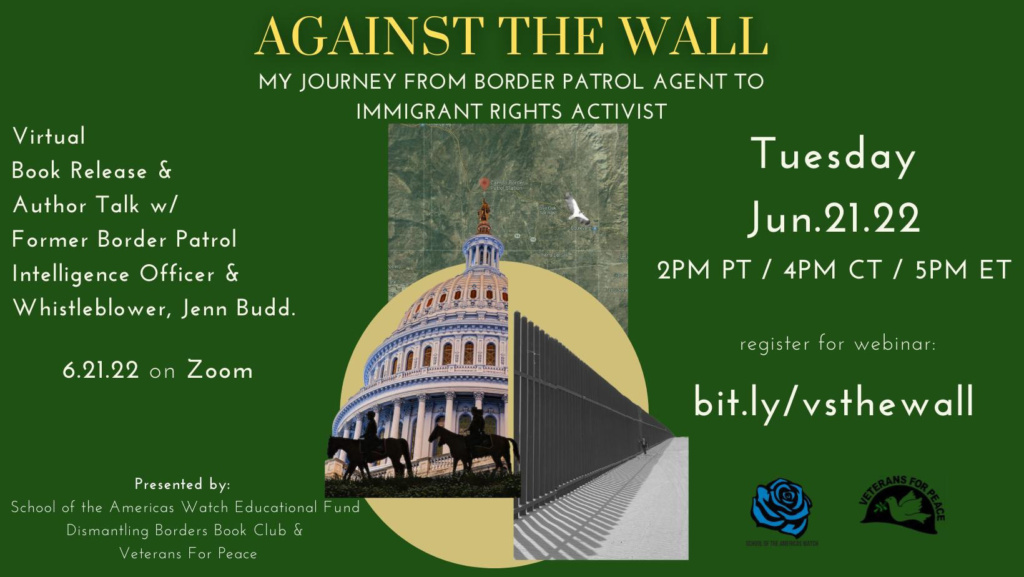 Against the Wall
My Journey From Border Patrol Agent to
Immigrant Rights Activist
Wednesday, June 21, 2022
2pm PT | 4pm CT | 5pm ET
on Zoom*
Virtual Book Release Event & Author Talk with Former Border Patrol Intelligence Officer & Whistleblower, Jenn Budd.
* Register below to receive an email confirmation with access details for the Zoom event
This post was originally published on SOA Watch.
Print
Share
Comment
Cite
Upload
Translate
APA
SOA Watch | Refugee Watch (2022-12-06T09:40:36+00:00) » vsthewall. Retrieved from https://www.refugee.watch/2022/06/17/vsthewall/.
MLA
" » vsthewall." SOA Watch | Refugee Watch - Friday June 17, 2022, https://www.refugee.watch/2022/06/17/vsthewall/
HARVARD
SOA Watch | Refugee Watch Friday June 17, 2022 » vsthewall., viewed 2022-12-06T09:40:36+00:00,<https://www.refugee.watch/2022/06/17/vsthewall/>
VANCOUVER
SOA Watch | Refugee Watch - » vsthewall. [Internet]. [Accessed 2022-12-06T09:40:36+00:00]. Available from: https://www.refugee.watch/2022/06/17/vsthewall/
CHICAGO
" » vsthewall." SOA Watch | Refugee Watch - Accessed 2022-12-06T09:40:36+00:00. https://www.refugee.watch/2022/06/17/vsthewall/
IEEE
" » vsthewall." SOA Watch | Refugee Watch [Online]. Available: https://www.refugee.watch/2022/06/17/vsthewall/. [Accessed: 2022-12-06T09:40:36+00:00]
rf:citation
» vsthewall | SOA Watch | Refugee Watch | https://www.refugee.watch/2022/06/17/vsthewall/ | 2022-12-06T09:40:36+00:00
https://github.com/addpipe/simple-recorderjs-demo